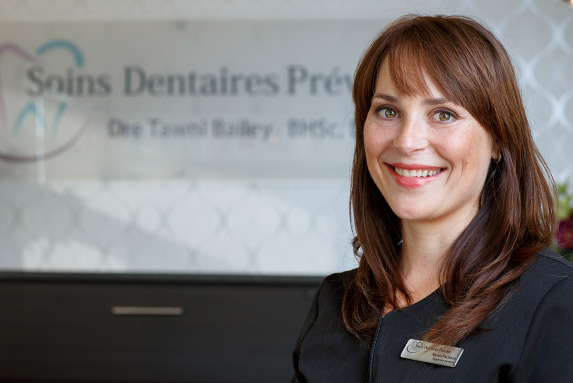 Narnia, Dental Hygienist
Narnia grew up in the Laurentians in St-Adolphe d'Howard, and attended primary and secondary school in Ste-Agathe.
Graduating from John Abbott College in 2011 with a diploma in Dental Hygiene, Narnia began her career in northern Quebec, working with the Cree population for one year. After gaining many wonderful professional and personal life experiences, she returned to Morin-Heights to be with family and friends.
Driven by a strong desire to empower her patients, Narnia is passionate about patient education and its link to our oral health and overall health.
Outside of the office, Narnia enjoys spending time with her husband and their two young boys, family, and friends. She loves to be active and keep busy and to enjoy the beautiful community we live in.
Roxanne, Dental Hygienist
Roxanne chose the profession of dental hygiene because she is passionate about the benefits of improved oral health. She always ensures her patient's comfort and is very empathetic to their needs. Roxanne works efficiently but gently and pays great attention to small details in helping your maintain excellent oral health. Roxanne received her diploma from the Cégep de Terrebonne and joined the team in 2015.
She loves seeing the expression of joy on a patients face after treatment, and knowing that our team has made a difference to our patients' life.
Outside of working hours, Roxanne enjoys nature and spending time with family and friends.